ViVi il Verde. Discovering the gardens of Emilia-Romagna
The Emilia-Romagna regional review that offers more than 100 events, from Rimini to Piacenza, to experience the green in all its nuances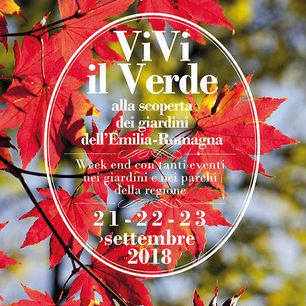 From Friday 21 to Sunday 23 September returns the regional review ViVi il Verde. Discovering the gardens of Emilia-Romagna. Now in its fifth edition, the event consists of over 100 events taking place in many points of regional interest, from Rimini to Piacenza, involving several gardens of the circuit (Grandi Giardini Italiani).

Within the exhibition, promoted by the IBC - Istituto Beni Culturali of the Emilia-Romagna Region, an exhibition entitled Tessere Giardini, dedicated to the close link between textile art and nature, to be inaugurated Friday 21 September 2018, at 5:30 pm (participants receive a free catalog from the IBC).
It is a journey through some pieces of ''floral'' inspiration (fabrics, upholstery, dresses) from the historical textile collection of the ''Museo del Tessuto'' V. Zironi '' of Bologna, with headquarters in the eighteenth-century Villa Spada.
The villa is surrounded by a park and a wonderful Italian garden that will be the subject of guided tours during the festival.

There are dozens of green areas involved in the parks, such as the Emilian excellence of the Network such as the Labirinto della Masone in Fontanellato and the historic gardens of Villa La Babina in Imola and Villa Fantini in Tredozio. Also present are the botanical gardens, in particular the University of Bologna, one of the oldest in Europe, with visits and insights. Public gardens, private gardens open to the public, historic gardens, parks, gardens and botanical gardens, green urban areas, gardens of villas or castles, and even green corners within museums are involved.
VILLA LA BABINA AND HIS MAJESTIC PARK
Saturday 22 September, 3.30 pm
VISIT

A unique opportunity to discover the beautiful park of the Villa La Babina which looks majestic in the countryside at the beginning of the village of Sasso Morelli in the Imola plain, a village renovated by the architect Cosimo Morelli at the end of the eighteenth century.
The current plant, of a landscaped type, presents the characteristics of the nineteenth-century parks of the noble residences of the Bolognese plain. It looks like an island of green that emerges in the plain and is made up of some typical elements: a fifth of perimeter green that surrounds the buildings and large lawn areas.
It is characterized by being still today inserted in the original rural context, with which it maintains that landscape unity that unfortunately has been lost in many cases.

Information
Villa La Babina - Via Sasso Morelli, 40 - 40020 Sasso Morelli Imola (BO) - Tel. 0542 55 811
Free event
Maximum punctuality is recommended

LIVE THE GREEN AT THE LABYRINTH
Saturday 22nd and Sunday 23rd September, from 10.30am - 6.00pm

Two days dedicated to green and bamboo in a place that has in this plant one of the main reasons for originality: the Labyrinth of the Mason, the largest in the world, consisting of about 200,000 bamboo plants of different species. The walk to discover this plant of a thousand virtues will be enriched by suggestions and surprises within the Labyrinth.

Information
Labirinto della Masone - Strada Masone, 121 - 43012 Fontanellato (PR)
Tel. 0521 82 70 81 - Email prenotazioni@francomariaricci.com
Cost of participation: € 18,00 (includes admission, exhibitions and activities)

PALAZZO FANTINI AND ITS GARDEN
Sunday, September 23rd, from 10.00 am to 1.00 pm and from 3.00 pm to 6.00 pm

Unmissable opportunity to discover a historic garden and a territory surrounded by greenery. In the afternoon, in the company of the hiking environmental guide, the dott. Massimiliano Pitea, we start at 15.00, from the Information Point in via XX Settembre 62 to Tredozio, for a short walk along the Tramazzo stream to discover the valley and the National Park. At 16.00 arrival at the Garden of Palazzo Fantini and guided tour of the complex with particular attention to the characteristics of the plants therein and their relationship in the context of the National Park. The afternoon continues with projections of naturalistic videos concerning both the beauty of the National Park and the historical garden.

Information
Garden of Palazzo Fantini - Via XX Settembre, 81 - 47019 Tredozio (FC) - Tel. 051 33 00 95 - Email gianfranco@studiofontaine.it
Admission: € 5,00