Botanical Treasure Hunt Grandi Giardini Italiani
The most beautiful gardens created Italy are waiting all kids for a special Easter Monday!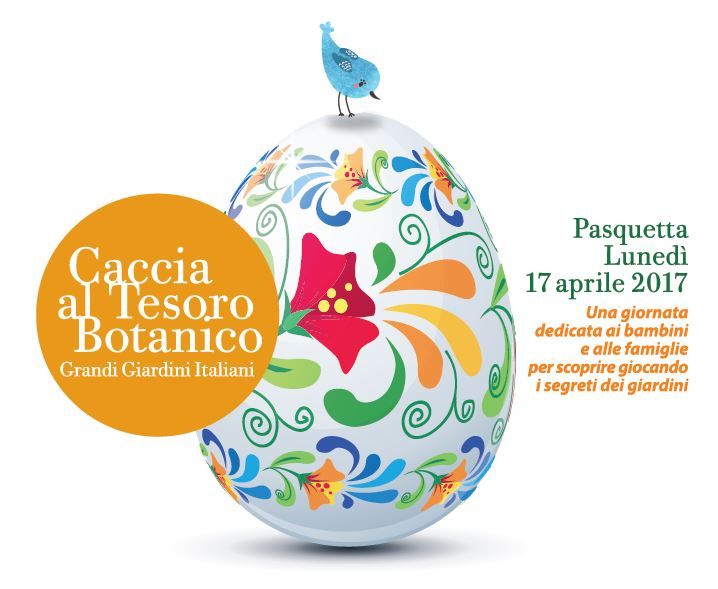 Don't miss the special Botanical Treasure Hunt on Easter Monday in the most beautiful gardens of Italy!

The Botanical hunt Grandi Giardini Italiani, created and organized by the network of the most beautiful gardens created in Italy, is an excellent opportunity to introduce children to the garden and nature, helping them to discover and recognize, in a playful way, trees and plants found in parks. What better time than Easter Monday (April 17, 2017) for a walk and a nice hunting in the most beautiful gardens created in Italy?

And ... while children are engaged in the Botanical hunt, special tours to discover the gardens are offered for parents and all adults , with the opportunity to participate in wine tastings and art exhibitions taking place in several italian gardens.
The 2017 edition of the
Botanical Treasure Hunt
of
Grandi Giardini Italiani
will be held in the following great italians gardens of the network:
Piemonte
Villa Ottolenghi Wedekind
(Acqui Terme, AL)
Villa Badia
(Sezzadio, AL)
Castello di Miradolo
(S. Secondo di Pinerolo, TO)
Oasi Zegna
(Trivero, BI)
Lombardia
Parco della Fondazione Minoprio
(Vertemate con Minoprio, CO)
Villa del Grumello
(Como)
Villa Carlotta
(Tremezzina, CO)
Giardini di Villa Melzi d'Eril
(Bellagio, CO)
Rossini Art Site
(Briosco, MB)
Giardini di Villa Monastero
(Varenna, LC)
Giardino Botanico A. Heller
(Gardone Riviera, BS)
Il Vittoriale degli Italiani
(Gardone Riviera, BS)
Isola del Garda
(S. Felice del Benaco, BS)
Rocca di Lonato del Garda
(Lonato del Garda, BS)
Parco Botanico Angelo e Lina Nocivelli
(Verolanuova, BS)
Villa della Porta Bozzolo
(Casalzuigno, VA)
Trentino Alto Adige
Giardini di Castel Trauttmansdorff
(Merano, BZ)
Veneto
Castello di Roncade
(Roncade, TV)
Castello di San Pelagio
(Due Carrare, PD)
Villa Trissino Marzotto
(Trissino, VI)
Liguria
Villa Serra
(Sant'Olcese, GE)
Giardini Botanici Hanbury
(Ventimiglia, IM)
Emilia Romagna
Labirinto della Masone
(Fontanellato, PR)
Toscana
Giardino Bardini
(Firenze)
Giardino Storico Garzoni
(Collodi, PT)
Parco della Villa Reale di Marlia
(Marlia, LU)
Lazio
Roseto Vacunae Rosae
(Roccantica, RI)
Castello Ruspoli
(Vignanello, VT)